Antoine & Lili
"Colorful creator"
Antoine & Lili is a pretty brand of feminine clothing and decoration whose creation and manufacture is artisanal and partly "Made with love" in France Offering an escape from the everyday and acting as a source of inspiration.
The adventure began 20 years ago, in 1994, in Paris, in a boutique workshop in Montmartre. Initially, a story of friends ... everyone reported wonders gleaned over his travels. They made the clothes they liked to wear in colorful patterned fabrics (wax, sarong, silk embroidered), with the desire to offer a happiness and colorful life to the Parisians.
The Antoine & Lili style draws its inspiration from the traditional and ethnic ways of women dressing from all over the world. India, Africa, Latin America blows their mix and match all in colors and mixes of patterns. Fashion at Antoine & Lili is out of time, always very feminine, colorful and original. It is always an invitation to travel, an incentive to talk about elsewhere know-how and colors for a happy woman, free, with always a small grain of madness!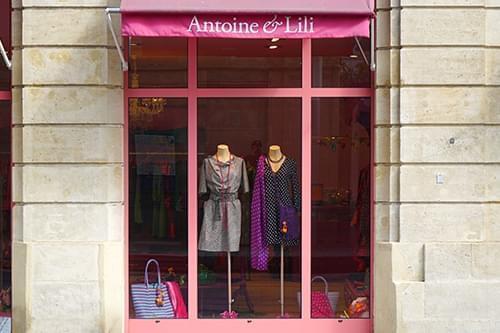 Quai de Valmy concept store
The boutique concept of the Quai de Valmy is the emblem of the house and a "must" in the Canal St Martin. The colorful and very original mix of products designed and made in Paris is presented. The visitor can find a lot of wonders to brighten his interior and make a gift: Japanese crockery, African rugs, Indonesian tables, and all kinds of unusual objects and toys for the little ones.
In 20 years, the House has breathed its joy of living by opening other shops in Paris, then in France: Lille, Strasbourg, Lyon, Bordeaux, Toulouse, Aix and Marseille. Then Geneva, Lausanne, Canterbury and Brussels opened abroad ...
Antoine & Lili dreams of continuing to share his values ​​and his little spark of madness, with other Antoine and other Lili ... as far as the joy of life can carry them ... London, Berlin, New York, Tokyo. Through beautiful meetings …